Bonnie is an amazing horsewoman! She first worked with my horse at a Buck Brannaman clinic. I was watching her work with him and I couldn't believe what was happening...it was nothing short of a miracle!
Thank you Bonnie for all you do for our horses and to teach us how to connect and communicate with them.
- Claudia Logan
(Pictured right: Claudia, Nikko, Bonnie and Buck)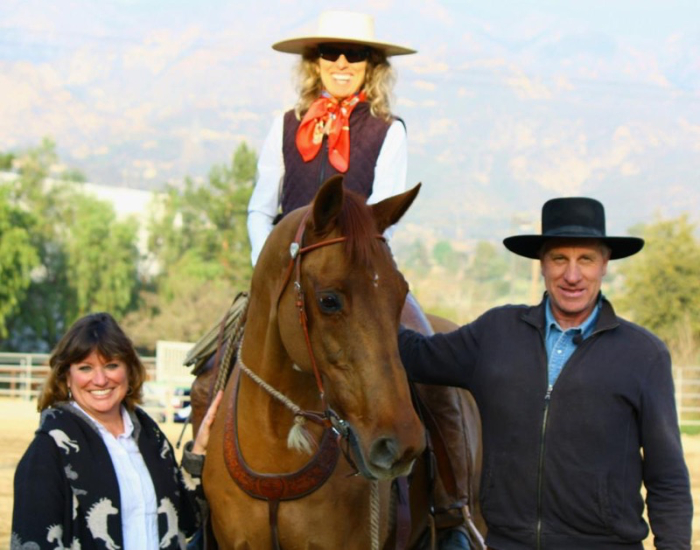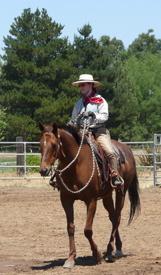 Before meeting Bonnie, I rode in a clinic with Buck Brannaman. I asked him if there was anyone in the Bay Area that I could continue to learn from. He recommended Bonnie Stoehn.
Since I live in Santa Clara and she's in Santa Cruz that means driving over Hwy 17. So I asked, "Isn't there anyone south of San Jose, like Gilroy or some place?" Nope. Bonnie was the best. He was solid in his recommendation.
- Mimi Gardner

(Pictured left: Mimi and Golden Fawn)
When it becomes your horse's idea to get in the trailer, loading is simple. Here's a video of Bonnie working with my once difficult to load mare. I haven't had a problem since!
-Erin Gates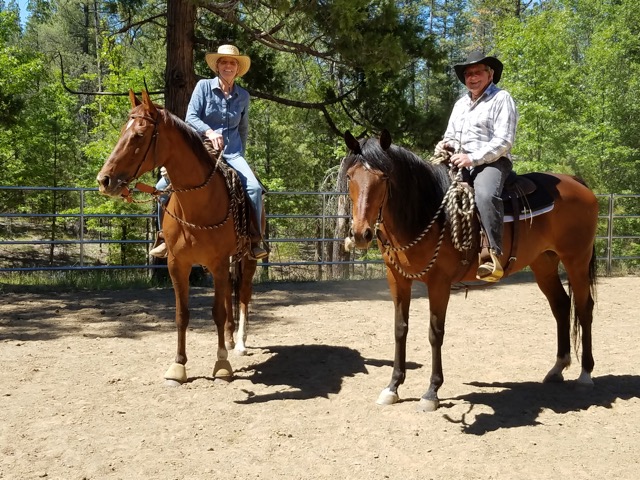 We started working with Bonnie over six years ago in Santa Cruz and found a whole new way of working/communicating with our horses. Bonnie took my horse, Mia, from a wild place (in Mia's mind) to being a soft and gentle horse to be around and on.
We moved from the Bay area three years ago and found that getting our horses attention was not what it used to be (both on and off their backs). We used to work with Bonnie weekly and miss our sessions with her.
Thank you for spending a weekend refresher course for both our horses and us. We feel like we are back in the saddle with confidence. Can't wait for next time!
-Janet and Dana Brown
When I first got Bobalu (an Arab) he had been a lesson horse and had had many riders yanking and kicking on him for quite some time so he was really shut down. Once we started to work with Bonnie on ground work and he was given the opportunity to "choose" right from wrong he completely blossomed!

The thing I really liked in working with Bonnie is she worked with me and she worked with Bobalu. When either Bobalu or I couldn't figure it out, Bonnie would get on Bobalu to either show me or help him. That was SO HELPFUL and rare - most times you either get a horse trainer or a people trainer, but not both!

- Audra Soltis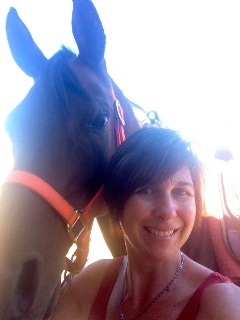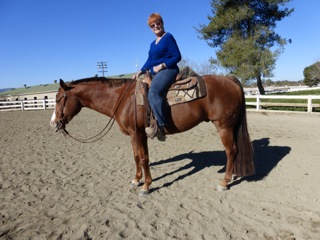 I have worked with Bonnie several times with my QH "Zip." Bonnie is a great teacher and has given me so many great pointers from the proper way to tack up, ground work and riding. I love working with Bonnie and can highly recommend her for training your horse and working with you to achieve your goals.
- Cynthia Buseo
(Pictured left: Cynthia and Zip)
Bonnie is a wonderful teacher. I have come so far in such a short time. Before I started working with Bonnie, I had come off a few times, and I had totally lost my confidence. I almost gave up riding completely. Bonnie has been helping me to regain my confidence, so that I can work with, and ride, any horse.
- J.S., Woodside, CA
© 2021 Thinking Horsemanship with Bonnie Stoehn